This morning
I had to go to the chiropractor for the second time in as many days, to get my neck adjusted. Yesterday morning, I was sleeping when I woke up just long enough to turn my head and throw the whole thing out. I have no idea how, but this seems to happen about three times a year now. It's horrible. I couldn't move my head at all yesterday, and any sudden movements brought me excruciating pain. Luckily, the hubby was nice enough to cancel his meetings and stay home with me to take care of everything that required movement.

At the chiropractor's office, the kid was very well-behaved and didn't have any potty accidents, so I told him that I'd bring him to the mall to play. It's not even that big of a play area, but he seems to look forward to it. Here's what it looks like from above: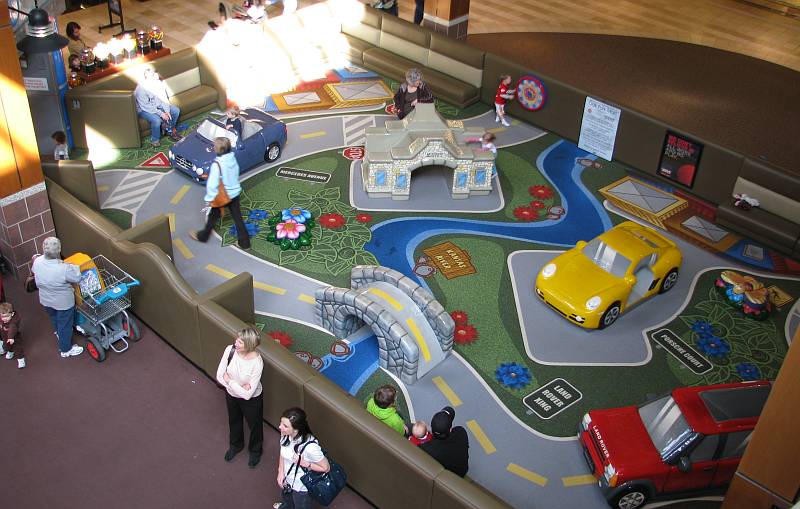 Before heading over to play, I was really hungry, so I bribed the kid with a chocolate chip muffin and we sat and had a nice breakfast in Panera. I had one of those spinach and artichoke souffles and a cup of coffee and oh, man, that was good. The kid sat and ate his muffin like a champ, only managing to toss a few spare crumbs about with his fork. He tried really hard, and that was very admirable.

As we got up to leave, I felt a tap on my shoulder and turned around to find a very petite middle-aged woman standing beside me. She looked me in the eye and said, "I just wanted to let you know that your little boy is adorable. You are SO good with him--it is clear you are an excellent mother, the way you interact with him. I just wanted to tell you how nice it is to see a mother who loves her son so much and is so good with him!"

*

BLUSH

*

How sweet is that? I could not thank her enough, and of course I praised the kid for being such a good boy on the way out. I don't think that lady could have made me happier if she said she was there from Publishers Clearing House and handed me a big check.

You know, it's often said that being a mom is the hardest job in the world, and I'd agree with that. There are some days when I feel like I'm starting to lose it entirely. The next time that happens, I will think back to this day and that lovely woman's words--I AM a good mom, even if I'm not a perfect one.